How to Manage Home Sections ?
First Create a Page for each sections. Eg: For "Home Section One" Add Page "Top Four Boxes"...
Let's add a new Page under admin panel, click on "Pages" in top left navigation. then click on "Add New".
Then add pages back on customizer panel and choose page for section.
Check Below Steps:
WordPress Admin Appearance > Customize > FRONT PAGE > HOME SECTIONS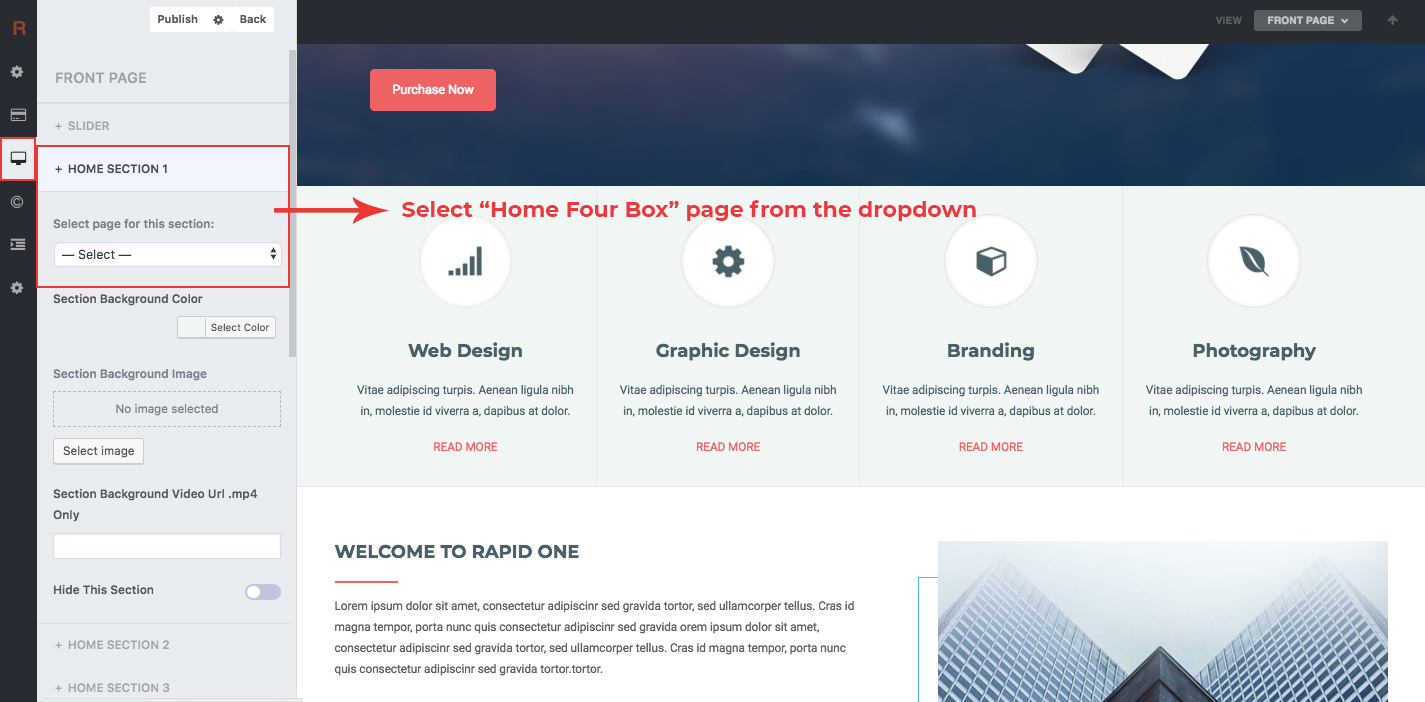 Below is the screen of Homepage section 1 "Edit Page"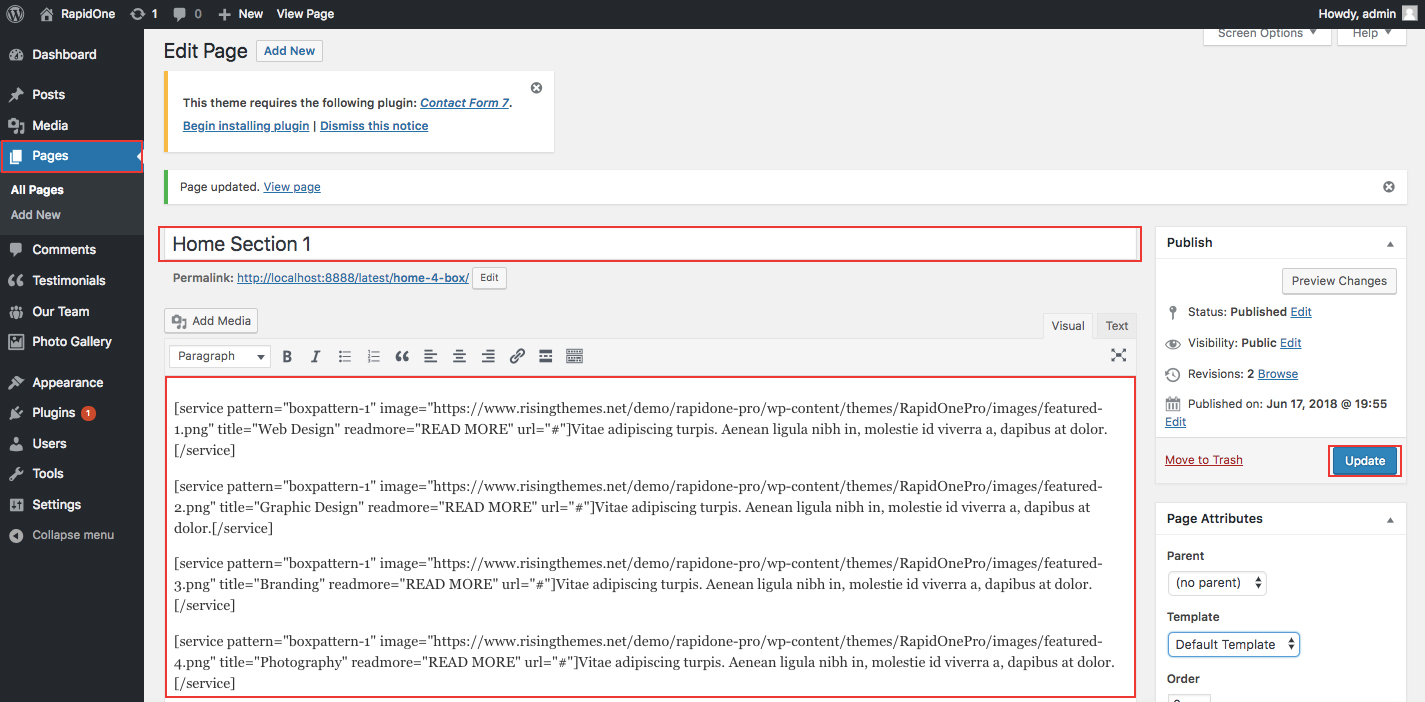 Below is the code of all home sections. Just Copy and Paste it in newly created page.
Home Section 1 Code:
[service pattern="boxpattern-1" image="https://www.risingthemes.net/demo/rapidone-pro/wp-content/themes/RapidOnePro/images/featured-1.png" title="Web Design" readmore="READ MORE" url="#"]Vitae adipiscing turpis. Aenean ligula nibh in, molestie id viverra a, dapibus at dolor.[/service]

[service pattern="boxpattern-1" image="https://www.risingthemes.net/demo/rapidone-pro/wp-content/themes/RapidOnePro/images/featured-2.png" title="Graphic Design" readmore="READ MORE" url="#"]Vitae adipiscing turpis. Aenean ligula nibh in, molestie id viverra a, dapibus at dolor.[/service]

[service pattern="boxpattern-1" image="https://www.risingthemes.net/demo/rapidone-pro/wp-content/themes/RapidOnePro/images/featured-3.png" title="Branding" readmore="READ MORE" url="#"]Vitae adipiscing turpis. Aenean ligula nibh in, molestie id viverra a, dapibus at dolor.[/service]

[service pattern="boxpattern-1" image="https://www.risingthemes.net/demo/rapidone-pro/wp-content/themes/RapidOnePro/images/featured-4.png" title="Photography" readmore="READ MORE" url="#"]Vitae adipiscing turpis. Aenean ligula nibh in, molestie id viverra a, dapibus at dolor.[/service]

---
Home Section 2 Code:

                      [columns size="2"]

[titlearea align="left" title="WELCOME TO RAPID ONE" titlelast="" subtitle="" titlecolor="#496068" titlelastcolor="" seperatorcolor="#ff6565"]



Lorem ipsum dolor sit amet, consectetur adipiscinr sed gravida tortor, sed ullamcorper tellus. Cras id magna tempor, porta nunc quis consectetur adipiscinr sed gravida orem ipsum dolor sit amet, consectetur adipiscinr sed gravida tortor, sed ullamcorper tellus. Cras id magna tempor, porta nunc quis consectetur adipiscinr sed gravida tortor.tortor. 




orem ipsum dolor sit amet, consectetur adipiscinr sed gravida tortor, sed ullamcorper tellus. Cras id magna tempor, porta nunc quis consectetur adipiscinr sed gravida tortor. Lorem ipsum dolor sit amet, consectetur adipiscinr sed gravida tortor, sed ullamcorper tellus. Cras id magna tempor, porta nunc quis consectetur adipiscinr



[readmore align="left" icon="" button="Read More" links="#" margintop="5%" target="_parent" color="#496068" bgcolor="" bdcolor="#496068"]

[/columns]

[columns size="2"]

[/columns]

[clear]
                    
Home Section 3 Code:

                      [titlearea align="center" title="LATEST WORKS FROM THE PORTFOLIO" titlelast="" subtitle="" titlecolor="#496068" titlelastcolor="" seperatorcolor="#ff6565"]



Sed ut perspiciatis unde omnis iste natus error sit voluptatem accusantium doloremque laudantium, totam rem aperiam eaque ipsa quae ab illo inventore veritatis et quasi architecto beatae vitae dicta sunt explicabo.


[clear]
[space height="100"]
[photogallery filter="true"]
                    
Home Section 4 Code:

                      [columns size="2"] [/columns]
[columns size="2"]
[aboutme icon="https://www.risingthemes.net/demo/rapidone-pro/wp-content/themes/RapidOnePro/images/aboutme1.png" title="Powerpacked Theme Options" description="Sed ut perspiciatis unde omnis iste natus error sit voluptatem accusantium doloremque laudantium, totam rem aperiam." url="#" target="self" color="#ffffff"]
[aboutme icon="https://www.risingthemes.net/demo/rapidone-pro/wp-content/themes/RapidOnePro/images/aboutme2.png" title="600+ CSS Font Icons" description="Sed ut perspiciatis unde omnis iste natus error sit voluptatem accusantium doloremque laudantium, totam rem aperiam." url="#" target="self" color="#ffffff"]
[aboutme icon="https://www.risingthemes.net/demo/rapidone-pro/wp-content/themes/RapidOnePro/images/aboutme3.png" title="Magic Element Animations" description="Sed ut perspiciatis unde omnis iste natus error sit voluptatem accusantium doloremque laudantium, totam rem aperiam." url="#" target="self" color="#ffffff"]
[/columns]
[clear]
                    
Home Section 5 Code:

                      [titlearea align="center" title="A FEW MAIN FEATURES OF RAPID ONE WORDPRESS THEME" titlelast="" subtitle="" titlecolor="#496068" titlelastcolor="" seperatorcolor="#ff6565"]



Sed ut perspiciatis unde omnis iste natus error sit voluptatem accusantium doloremque laudantium, totam rem aperiam eaque ipsa quae ab illo inventore veritatis et quasi architecto beatae vitae dicta sunt explicabo.


[clear]
[space height="30"]
[service pattern="boxpattern-2" image="https://www.risingthemes.net/demo/rapidone-pro/wp-content/themes/RapidOnePro/images/featured-5.png" title="Modern & Clean Design" readmore="" url="#"]Sed ut perspiciatis unde omnis iste natus error sit voluptatem accusantium doloremque laudantium, totam rem aperiam eaque ipsa quae ab illo inventore veritatis et quasi architecto beatae vitae dicta sunt explicabo.[/service]

[service pattern="boxpattern-2" image="https://www.risingthemes.net/demo/rapidone-pro/wp-content/themes/RapidOnePro/images/featured-6.png" title="WooCommerce Integrated" readmore="" url="#"]Sed ut perspiciatis unde omnis iste natus error sit voluptatem accusantium doloremque laudantium, totam rem aperiam eaque ipsa quae ab illo inventore veritatis et quasi architecto beatae vitae dicta sunt explicabo.[/service]

[service pattern="boxpattern-2" image="https://www.risingthemes.net/demo/rapidone-pro/wp-content/themes/RapidOnePro/images/featured-7.png" title="650+ Google web fonts" readmore="" url="#"]Sed ut perspiciatis unde omnis iste natus error sit voluptatem accusantium doloremque laudantium, totam rem aperiam eaque ipsa quae ab illo inventore veritatis et quasi architecto beatae vitae dicta sunt explicabo.[/service]


[service pattern="boxpattern-2" image="https://www.risingthemes.net/demo/rapidone-pro/wp-content/themes/RapidOnePro/images/featured-8.png" title="Advanced Theme Options" readmore="" url="#"]Sed ut perspiciatis unde omnis iste natus error sit voluptatem accusantium doloremque laudantium, totam rem aperiam eaque ipsa quae ab illo inventore veritatis et quasi architecto beatae vitae dicta sunt explicabo.[/service]


[service pattern="boxpattern-2" image="https://www.risingthemes.net/demo/rapidone-pro/wp-content/themes/RapidOnePro/images/featured-9.png" title="100+ shortcodes" readmore="" url="#"]Sed ut perspiciatis unde omnis iste natus error sit voluptatem accusantium doloremque laudantium, totam rem aperiam eaque ipsa quae ab illo inventore veritatis et quasi architecto beatae vitae dicta sunt explicabo.[/service]

[service pattern="boxpattern-2" image="https://www.risingthemes.net/demo/rapidone-pro/wp-content/themes/RapidOnePro/images/featured-10.png" title="Free Updates & Support" readmore="" url="#"]Sed ut perspiciatis unde omnis iste natus error sit voluptatem accusantium doloremque laudantium, totam rem aperiam eaque ipsa quae ab illo inventore veritatis et quasi architecto beatae vitae dicta sunt explicabo.[/service]
                    
Home Section 6 Code:

                      [titlearea align="center" title="CLINTS TESTIMONIALS" titlelast="" subtitle="" titlecolor="#ffffff" titlelastcolor="" seperatorcolor="#f8917c"]


 Quisque pellentesque neque vitae metus convallis, et faucibus diam hendrerit. 


[space height="40"]


[testimonials-rotator show="-1"]


                    
Home Section 7 Code:

                      [titlearea align="center" title="LATEST NEWS" titlelast="" subtitle="" titlecolor="#496068" titlelastcolor="" seperatorcolor="#f8917c"]


Quisque pellentesque neque vitae metus convallis, et faucibus diam hendrerit.


[space height="40"]
[posts-style4 show="3" cat="" excerptlength="30"]